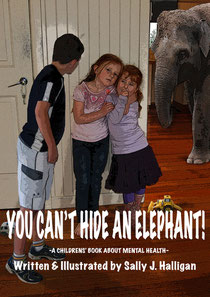 WRITE FOR LIFE BOOKS
Therapeutic Books for Children and Young People.
Written by author and Illustrator, Sally J Halligan.
Sally is a teacher, qualified Counsellor and Art Therapist, working with children and their parents.
Book 1.
"YOU CAN'T HIDE AN ELEPHANT-
A Childrens Book About Mental Health."
This book is written for children, aged 8-12, who have a parent with a mental illness.  It is beautifully illustrated with whimsical images. The story is told through the voice of the middle child.
It is encouraged to be read with a supportive parent, therapist, teacher or health/welfare worker.
ORDER THRU EMAIL: Halliganbooks@gmail.com
COST: $22 plus postage