The Author - Sally Halligan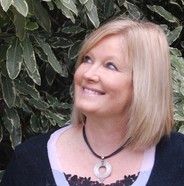 Sally was born in Melbourne and has raised three wonderful children, who grew up on a farm in New South Wales.
Sally is a qualified primary and visual arts educator, and currently works as a counsellor / family therapist.  She utilises Art Therapy, Acceptance Commitment Therapy (ACT) and Narrative Therapy in her practice.

As a child, Sally dreamed of becoming a writer and illustrator.  She has written countless stories for children, which she read to her own children and to students she taught in schools.
Sally was inspired to write "You Can't Hide An Elephant', after facilitating groups for children who had a parent with mental illness. She co-facilitating groups for children who experienced family violence, which was another inspiration for the books. Once children in the groups saw that they were not alone in their situation, and were given information, listened to and had their feelings normalised, they began to feel happier and function better, both in school and at home.

Sally knows only too well the impact on children, who live with family violence. Her passion is for children to be safe, to help children to understand what to do if they are ever in a dangerous or frightening situation and for all children to be heard.
The books are designed to be read in a supported environment with a counsellor, psychologist, therapist, mental health nurse, social worker or welfare officer. Sally plans to write a series of 'You Can't Hide An Elephant' books, all told through the voice of the child.
Sally hopes that the 'elephant in the room' will be shown the door once and for all. She believes that children have the absolute right to feel safe and nurtured.
Contact Sally Halligan:
halliganbooks@gmail.com
Bulk Orders receive a discounted price per book.
Please contact Sally for postage price.
Postage for one book is free within Australia.